Prosthetic  Services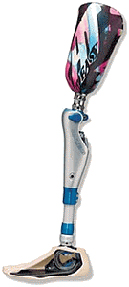 Orthotic Solutions has a cutting edge facility with highly trained, skilled, licensed and registered practitioners and technicians.  The staff is experienced with all levels of upper and lower extremity amputations.
We have the capability to create myoelectric, body-powered and hybrid systems, along with custom cosmetic covers and gloves.
Upper Extremity Prosthetics
Partial Hand
Wrist Disarticulation
Transradial (Below Elbow)
Transhumeral (Above Elbow)
Shoulder Disarticulation
Forequarter
Lower Extremity Prosthetics
Partial Foot
Symes
Transtibial (Below Knee)
Transfemoral (Above Knee)
Hip Disarticulation
Hemipelvectomy
Orthotic Solutions uses the latest technology, including carbon fiber laminations, microprocessor knees, microprocessor ankles and vacuum systems.  At Orthotic Solutions, we encourage patients of all ages and abilities to achieve independence and function.  We believe in treating the whole patient.