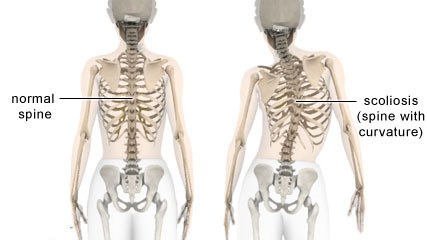 Scoliosis is a complex 3-dimensional deformity that may look like an "s" or a "c" curve when viewed on an xray.
Scoliosis typically falls into three classifications:
Congenital – Caused by vertebral anomalies present at birth
Idiopathic – Unknown cause, subclassified as infantile, juvenile, adolescent, or adult according to when onset occurred.
Neuromuscular – a secondary symptom of another condition such as spina bifida, cerebral palsy, spinal muscular dystrophy or physical trauma.
Scoliosis can progress during any rapid growth spurt in children who are otherwise healthy.  The curvature in the spine must measure more than 10 degrees for it to be considered scoliosis.
At Orthotic Solutions, we are committed to providing unsurpassed scoliosis care to our patients' needs while offering superior quality and service.  We begin each appointment by listening to and fully understanding your concerns in order to develop the most appropriate treatment plan.  Our scoliosis braces are hand crafted in plaster with the design aided by x-rays and patient measurements.  The scoliosis braces (TLSOs) are fabricated from thin, light weight thermoplastic material called polypropylene.  They are also fitted with internal padding and cushioning for comfort day and night.  We use standard, and proven, scoliosis bracing techniques.
For a comprehensive scoliosis evaluation and treatment recommendation, please contact one of our locations.