Pediatric Orthotic Care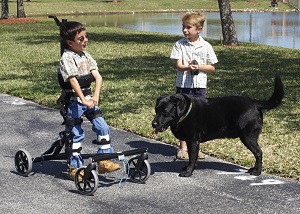 At Orthotic Solutions, we treat the very young, the elderly, and everyone in between.  However, we have earned the respect of pediatric community and have become a leading provider of pediatric orthotic care in the Washington DC area.  About 75 percent of our patients are children.  We understand that your child's well-being is your first concern.  You can feel confident knowing our certified orthotists have the skills and knowledge to manage your child's individual orthotic needs.  We understand the emotional and physical needs that are inherent challenges in providing orthotic treatments to children.  We strive to take the best care of our young patients and their parents.
We begin each appointment by listening to you and understanding your concerns so we can provide the most appropriate solution. Every patient benefits from a comprehensive evaluation including gait analysis, manual muscle testing and range of motion testing which help us to accurately assess your needs and direct your treatment. We take time to educate you because you have a vital role in your treatment process. Together, along with physicians and care givers we set goals and expectations for your treatment plan. We go the extra mile to achieve a positive outcome.
We design, fabricate and fit orthoses to help support various parts of the body. Properly fitting orthoses offer patients a dramatically improved quality of life. Orthotic Solutions specializes in the following areas of Pediatric Orthoses that are used to treat various conditions including:
Specialty Areas
Pediatric Orthotic Care
Post-Surgical Trauma Orthotic Services
Orthoses for Sports-Related Injuries
Foot Orthoses
Conditions We Treat
Congenital Deficiencies
Cerebral Palsy
Spina Bifida
Muscular Dystrophy
Plagiocephaly
Club Foot, CMT
Arthrogryposis
Developmental Delays
Neurofibromatosis
Osteogenesis Imperfecta
Injuries
Sports Injuries
Fractures
Spinal Cord Injuries
Head Trauma
Soft Tissue Injuries