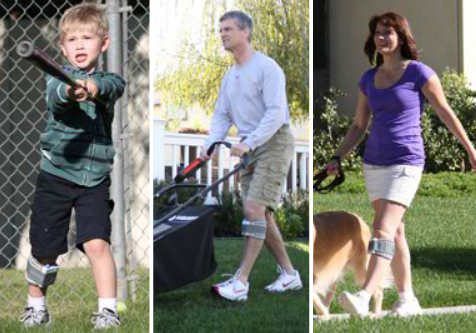 What is the WalkAide?
Walk Aide is a revolutionary FDA cleared medical device that leverages functional electrical stimulation (FES) to improve walking ability of people living with foot drop. The Walk Aide is also utilized as a Neuro Rehabilitation tool by Clinicians.
Who could benefit from the Walk Aide?
Patients: The Walk Aide can help patients who exhibit foot drop due to Brain or Spinal diseases or Trauma, such as Stroke (CVA), Multiple Sclerosis (MS), Spinal Cord Injury, Traumatic Brain Injury (TBI), Brain Tumor, or Cerebral Palsy (CP).
Who can provide the Walk Aide?
Clinicians: The Walk Aide is used by clinicians as the most advanced FES tool for a variety Neuro Rehabilitation modalities.
Orthotists and Medical Doctors utilize the Walk Aide as a long-term and inpatient rehabilitation tool to treat foot drop and improve gait in patient with upper motor neuron conditions such as Multiple Sclerosis (MS), Stroke (CVA), Cerebral Palsy (CP). In order to offer the Walk Aide system, clinicians are required to complete a Walk Aide training course.
Indications
Walk Aide is not appropriate for everyone. Individuals with the following central nervous system conditions may benefit from WalkAide:
Cerebrovascular accident

Incomplete spinal cord injury

Traumatic brain injury

Multiple sclerosis

Cerebral palsy
Contraindications
People presenting with the following peripheral nervous system conditions will NOT benefit from Walk Aide:
Secondary complications of back, hip or knee surgery

Traumatic accidents to the leg

Sciatica

Peripheral neuropathy

Spinal stenosis

Post-polio syndrome

Guillain-Barre
NOTE: People with pacemakers or who suffer from seizures should not use Walk Aide.
A thorough evaluation by a specially trained medical professional, in conjunction with the rehabilitation team, will provide the final determination of the appropriateness and potential effectiveness of Walk Aide. The medical professional will evaluate and specifically test for functional foot/ankle movement via electrical stimulation of the common peroneal nerve. If the person is found to be a good candidate for Walk Aide, trial fittings can verify effectiveness during this orthotic clinical examination. To find a trained medical professional in your area, go to our Patient Care Center Locator.
For further information on the Walk Aide, please visit their web page at www.walkaide.com.